A Patient's Story: A Fall at Work
A hurt wrist, important meetings, and a box of donuts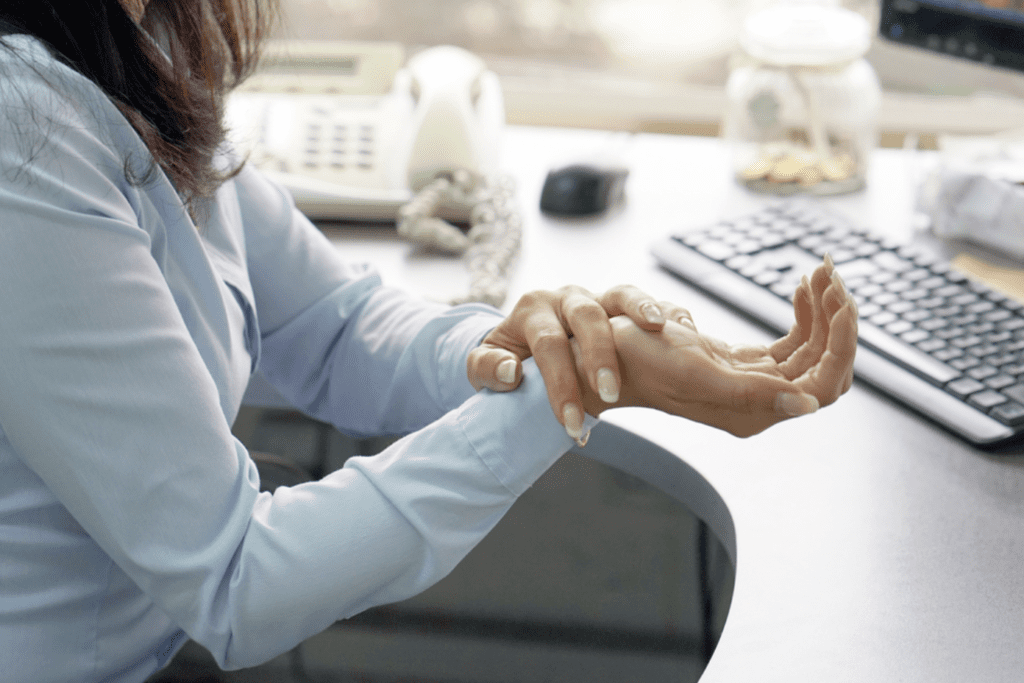 The following was shared with us from a patient after using UCM's Virtual ER service for the first time:
Heading into work this morning, I tripped as I was coming through the main doors. I knew I was rushing to get into the building, and was carrying too many things so I totally misjudged a step and fell down. Everything I was carrying — including the box of fancy donuts I'd just picked up — went flying across the floor. I was so embarrassed, but my co-workers helped me get back up, gathered my things, and walked me to my office. I was really grateful for their help as I regained my composure; we had a day full of important meetings ahead of us.
Unfortunately, my right wrist really hurt from the fall.
I sat there at my desk and tried to figure out what to do as my assistant hurried to get me some ice. When she returned, she reminded me that through a recent addition to our company benefits, we were able to call UCM's Virtual ER and speak to an emergency medical provider.
With my wrist hurting, she even helped me download the UCM Now app and get set up for my consult. I figured I could catch up on the morning's emails while I waited for the call back — but I didn't have long because the emergency medical provider called me within 10 minutes!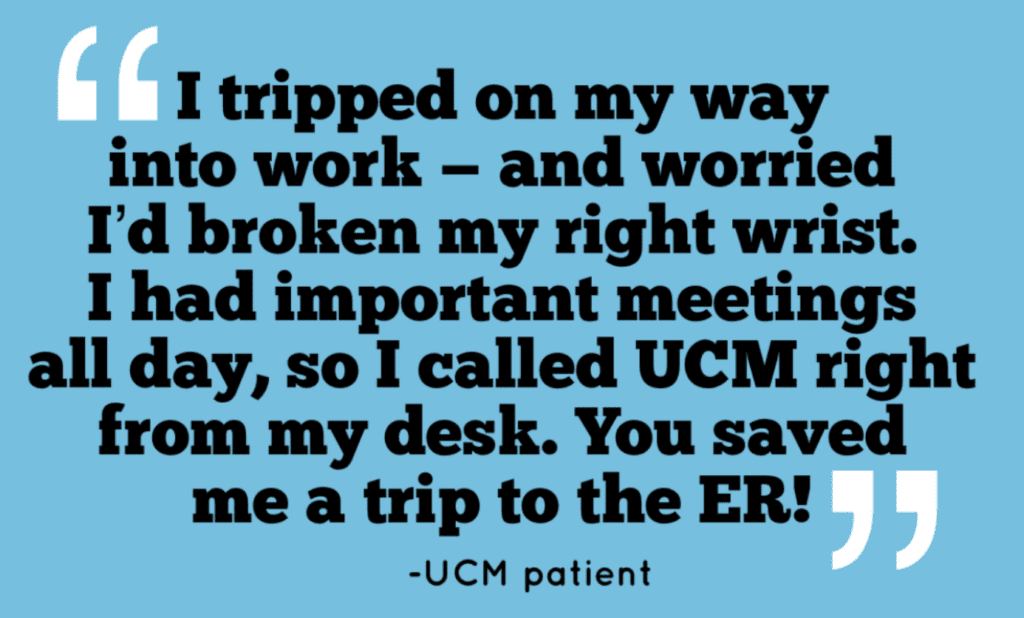 So, while sitting there at my desk, using the videochat feature on the app, I was able to talk face-to-face with an emergency medical provider. He was so kind, but got right to asking me very specific questions about my wrist, my fall, and the pain I was experiencing. As we talked, he walked me through some gentle movements so he could assess my range of movement and see where I felt pain as I moved. We also discussed my pain level, on a scale of 1 to 10.
Thankfully, based on what the emergency medical provider saw and listening to what I said about the pain, he felt that I most likely had a sprain not a break. He provided some instructions for how I should ice my wrist throughout the day, and instructed me to take ibuprofen right away to help ease the pain. As a precaution, he said he would like for me to go for an X-ray later that day.
With great relief, I headed into my first meeting of the day — and everyone in the meeting was really impressed when they heard about my experience calling the Virtual ER, and how this was such a great benefit our company offered.
During a break, I received a call from one of UCM's Care Coordinators telling me that they'd already scheduled an X-ray appointment for me later in the afternoon. I am happy to report that after my meetings, I headed to the nearby imaging center and the X-rays confirmed that my wrist was not broken!
I just wanted to say thank you to UCM for the help this morning, it really changed my day and kept me from having to spend a few hours in the ER.
And, you know what else was great? The donut company even delivered a fresh box of donuts!