Medical Minute: The Dangers of Vaping
A new medical issue arises from smoking e-cigarettes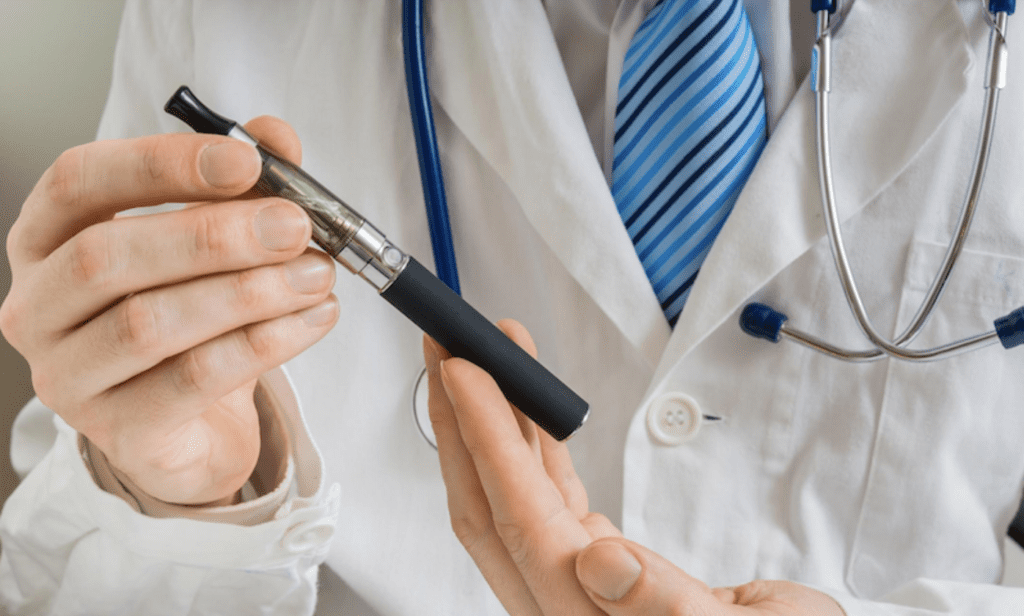 A NEW MEDICAL ISSUE ARISES FROM SMOKING E-CIGARETTES—AND A RECENT TRAINING HAD UCM EMERGENCY STAFF ON ALERT TO RECOGNIZE THE SYMPTOMS RIGHT AWAY
A 16-year-old named Tim had a cough worsening with shortness of breath and fatigue—forcing him to miss his coveted basketball game. Until then, Tim's mother thought he had a minor cold; but in the days leading up to the game, he'd worsened and wasn't even able to get ready for his game. So, she opened the UCMnow app and pressed 'consult now.'
ANSWERS COME FAST
As soon as Tim's mother connected with the UCM Virtual ER emergency medical provider, she described Tim's brief illness, and she also shared that Tim was recently caught vaping. She asked the provider if his sudden respiratory illness had anything to do with him vaping. "I've heard that people are getting really sick with vaping and I'm worried," she said. This alerted the UCM emergency medical provider, and prompted numerous questions to Tim's mother.

All of the UCM emergency medical staff had recently been briefed on the symptoms of vaping-related injuries and illnesses based on the Center for Disease Control's emergency health advisory on vaping and its related issues. Upon further questioning, Tim's mom explained that, yes, Tim did start out with a minor stomach bug; diarrhea, nausea, and one episode of vomiting the week earlier, before starting to cough. The cough remained largely dry and he was running a low-grade fever. The UCM emergency medical provider, with mom's permission, set up the video-chat feature and spoke directly with Tim.

He saw that Tim appeared fatigued and that his speech was interrupted by frequent coughing, but that he was sitting up and was not audibly wheezing or showing visible signs of respiratory distress. Tim revealed that he had used a vaping liquid three days prior to getting sick that his friend at school gave him. "It smelled like cotton candy," he said, "and vaping has never really bothered me before."
With Tim meeting virtually all of the symptoms of a vaping reaction, yet not being acute enough at that moment, the UCM emergency medical provider elected to start Tim on an Albuterol inhaler, as well as an aggressive steroid regimen. These recommendations and not sending Tim to the of ER were contingent upon Tim not having any further worsening in his breathing condition. UCM called for follow-up three times in a 24-hour period to ensure Tim's symptoms had not worsened, and thankfully, he drastically improved.
AN IMPORTANT MESSAGE ABOUT VAPING
Very little is known right now about what exact substance in flavored vaping liquid is the cause of many people's acute respiratory illness, and even deaths, across the country. The largely unregulated market of vaping liquids, black-market vaping liquids, and abuses of drugs being used in vaping devices disguise an obvious culprit responsible for the sometimes very severe cases of vaping injury. We know that the symptoms stem from a lung inflammatory reaction, not infection, anytime within 90 days from use of vaping. However, patients are presenting with commonalities in symptoms akin to infection:
Fatigue, chills, sweats (100%)
Breathing distress and cough (98%)
Nausea, vomiting, diarrhea (80%)
Fever (30%)
We encourage you to stay tuned to the Center for Disease Control for further updates on vaping injury as this issue develops in the coming weeks and months.
Statement from the CDC on lung injuries associated with e-cigarettes, or vaping can be found here.